A5 printable booklets, suitable for binding, can be downloaded from the links below. The files are .zip ones. You will later need to unzip them and an Acrobat Reader to view and print them. If you don't have them, the free Acrobat version can be downloaded from here and an Unzip free program from a choice here

When you've installed the Reader and unzipped the relevant file, open the file in Reader. It will produce an image similar to this, either a double or single page view depending on how you have conformed the View facility: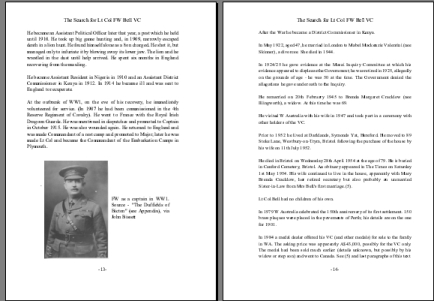 Having opened the file in Reader, and loaded A5 paper in printer tray, printing is then as follows:
1. Click on File|Page Set Up. Choose A5|Portrait
3. Click on Print.
3. Select Odd Pages Only.
4. Print these odd pages
5. When finished, reinsert paper so that the other side can be printed. Make sure that you have the correct orientation.
6. Select Even Pages Only
7. Print these pages. NB I find it most easy to print in batches only, say, pages 1-20 - i.e. front and back of 19 sheets. In this way, if one sheet doesn't print properly, you haven't spoilt more than a few sheets!
8. Print front and back of cover in the same way
9. When all are printed, assemble and bind with a plastic sheet binder of appropriate thickness. These are available in most good stationery stores and cost only pence.
Files for downloading:
Idioms
Idioms booklet 668Kb Updated 26 June 2009
Cover 16Kb
The Bedtime
Browser
or
Why Do We Say That?
An Account of the Origins of Many
English Sayings
By
James C Briggs
The Search for Lt Col FW Bell VC
Lt Col FW Bell VC 590Kb Updated 10 March 2006
Cover 16Kb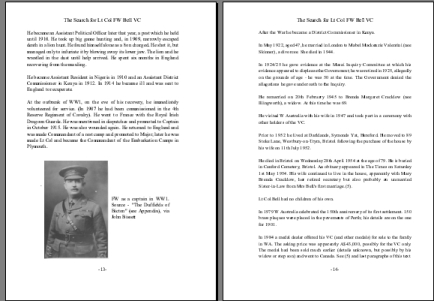 The History of Frenchay Hospital
Updated: 09 November 2005
Cover 32Kb


Pages 1-16 240Kb


Pages 17-40 177Kb


Pages 41-60 378Kb


Pages 61-93 294Kb


Pages 94-118 146Kb


Pages 119-138 65Kb


Pages 139-154 148Kb


Pages 155-188 100Kb



Pages 189-end 275Kb







*****************CONTENTS********************

PREFACE & ACKNOWLEDGEMENTS Pages 2-3

INTRODUCTION Pages 4-6

THE EARLY DAYS Pages 7-16

1930 - 1940 Pages 17-40

THE AMERICAN TIME: 1942 - 1945 Pages 41-60

PERSONAL MEMORIES OF THE WARTIME Pages 61-93

THE POST WAR PERIOD Pages 94-118

THE SIXTIES Pages 119-129

THE SEVENTIES Pages 130-135

BUILDINGS: OLD AND NEW USES Pages 136-138

THE EIGHTIES Pages 139-145

1990 - 1994 Pages 146-154

***********POST 1994 UPDATES ***********

THE HOSPITAL'S VERY EARLY DAYS Pages 155-157

THE AMERICAN RED CROSS AT FRENCHAY 1942-44
Pages 158-188

THE STORY OF A NURSE OF THE 117TH HOSPITAL.
Pages 189-197 Added Nov 2004

"FOLLY". The story of a US soldier's time as a patient.
Pages 198-201 Added Mar 2005

HOSPITAL CHANGES POST 1994 Pages 202-205
Updated 21 March 2008